---
farmNFM
Watershed services delivered by upland farms
Apr 2017 to Mar 2020
To quantify through measurements and modelling the flood mitigation and water quality benefits of interventions on upland farms, notably farm woods, hedgerows, soil improvement practices and channel re-alignment. The focus is within the Leith and Lowther Basins in the Eden Catchment, Cumbria (UK). This is a partnership project with the Eden Rivers Trust.
Photo: Measuring the effects of subsoiling on infiltration capacity (or 'saturated hydraulic conductivity of the topsoil') using two Ring Permeameters (Chappell & Ternan, 1997 Earth Surf Process Landf) used in situ within fields in the Lowther basin.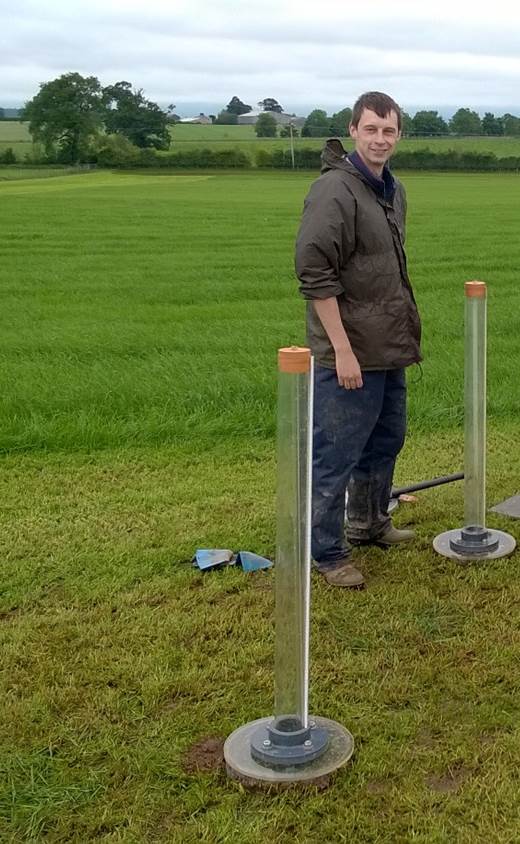 Centre for Global Eco-Innovation
and
Eden Rivers Trust
Funding sources
Eden Rivers Trust (EAA7499) and European Regional Development Trust Fund (EAA7498) via the Centre for Global Eco-Innovation (project CGE50)
Investigators
Ethan Wallace (project researcher), Nick Chappell, Wlodek Tych and John Quinton (Lancaster University), with partners Alice Robinson and Daniel Brazier (Eden Rivers Trust).