---
LEC430 Sustainable Soil Management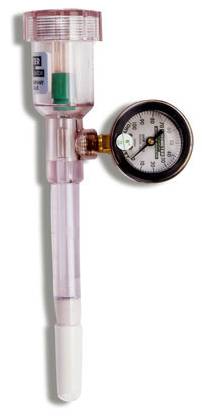 A JetFill tensiometer with Bourdon gauge
This site contains links to copies of lecture handouts and further reading to read online or download as part of LEC430 Sustainable Soil Management (formerly LEC428). These resources are mostly held on an INTRANET (so access on campus or setup VPN access new page) and will be updated throughout the module.
The aim of this module is to introduce students to key issues surround-ing the ability of the soil to produce crops, and the agricultural / economic consequences of failing to manage this resource properly. Most agricultural production is dependent on the soil not only to anchor plants, but to supply their hydraulic and nutritional needs. Furthermore, the rhizosphere (soil adjacent to the root surface) is a biological hotspot comprising micro-organisms that can directly or indirectly assist crop nutrient acquisition (rhizobia, mycorrhizae and plant growth promoting rhizobacteria) or cause disease. Increasingly, the soil is being recognised as a global resource to aid carbon sequestration (even in agricultural systems) and/or act as repository for waste derived from other industries.
Lecture 3 Measuring soil-water states for irrigation scheduling is taught by Nick A Chappell.
The learning objective related to this lecture is to Understand and use soil-water and evaporation measurements to manage irrigation.
Click on links below to read or download handouts and reading for each lecture:
Copyright © Dr. Nick Chappell, Lancaster Univsersity 2018. ALL RIGHTS RESERVED.