---
R3t version 1.9 March 2019
R3t
is a forward/inverse solution for 3D current flow in a tetrahedral or triangular prism mesh. The inverse solution is based on a regularised objective function combined with weighted least squares (an 'Occams' type solution) as defined in Binley and Kemna (2005).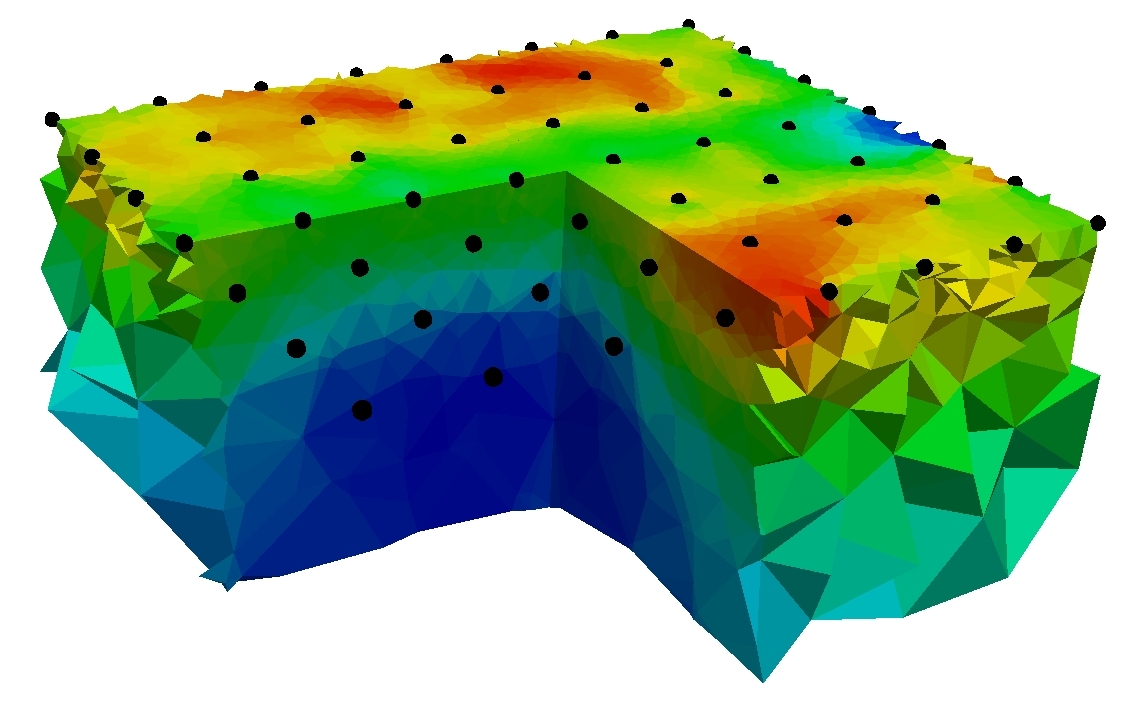 The user must define the mesh for
R3t
as a series of elements, each with either 4 nodes (tetrahedron) or 6 nodes (triangular prism). The user must also specify the position of the electrodes within the mesh. The electrodes can be located anywhere in the mesh, provided they fall on node points. Neumann (no current flow) boundary conditions are applied at the boundary of the mesh and so if a half-space is modelled then the mesh should be extended away from the region of interest to account for 'infinite' boundaries.
R3t
will output calculated parameters (resistivity) for the entire mesh and the user must extract results for the region they wish to study. The region is parameterised in terms of resistivity blocks by grouping patches of elements.

Measurements are defined in a separate file as a set of four electrode indices. Each electrode is defined as a "string" number and an "electrode" number. Note that the "string" index is used simply to help group electrode strings (for example, surface lines of electrodes or boreholes); the "string" index can be the same for all electrodes if the user wishes not to use this labelling.
The current version will work with any size problem but the user should be careful about not setting up a problem that is too large for the memory (RAM) available. This is particularly relevant for inverse problems. Keep in mind that the size of the Jacobian (sensitivity) matrix, for example, is the number of measurements x the number of parameters (and each value will be stored as 8 bytes).
R3t
will output the required memory at the start of execution of the code, but it is advisable to think about memory demands before the mesh is setup.
Download R3t
Note that there is no installation script to run. The
R3t
executable should be copied to a working folder and run from there.
R3t
runs on a 64bit Intel compatible processor. Examples are provided (see download below).
User guide (pdf)
Download R3t program and guide
( .rar file)
Some example applications of R3t
"Monitoring freshwater salinization in analog transport models by time-lapse electrical resistivity tomography" by Wagner et al.
"Noninvasive 3-D Transport Characterization in a Sandy Soil Using ERT" by Koestel et al.
"Tracer Movement in the Unsaturated Zone: Frostbitten results" by Haarder et al.
"Spatial variability in free phase gas dynamics in a Northern peatland" by Terry et al.
Comparing Plume Characteristics Inferred from Cross-Borehole Geophysical Data" by Haarder et al.
A saline tracer test monitored via both surface and cross-borehole electrical resistivity tomography: Comparison of time-lapse results" by Perri et al.