Those associated with Lancaster and surroundings...
Edmond Crouchback, 1st Earl of Lancaster (January 16, 1245 – June 5, 1296). In 1265, King Henry III gave his son Edmund lands, which from 1267 carried the name of Lancaster.
Henry of Grosmont, 1st Duke of Lancaster (c. 1306 – March 24, 1361) received the title on 6 March 1351.
John of Gaunt, 2nd Duke of Lancaster (June 24, 1340 – February 3, 1399) received the title from King Edward III on 13 November 1362.
King Henry IV (April 3, 1367 – March 20, 1413) First king of the House of Lancaster
Robert Gillow (1704-1772), Lancaster furniture maker, was born in Singleton, 15 miles southwest of Lancaster in 1704
Richard Arkwright (1732-1792), inventor of the spinning machine, was born the youngest of 13 children in 1732 in a house off Lord Street, Preston, 20 miles south of Lancaster.
John Dalton, FRS (1766-1844), developed the fundamental equation describing evaporation, was born on 6 Septermber 1766 in Eaglesfield near Cockermouth, 40 miles northwest of Lancaster.
Prof Adam Sedgwick (1785-1873), geologist, was born on March 22, 1785 in Dent, 20 miles northeast of Lancaster.
Prof William Whewell (1794-1866) was born in Lucy street, Lancaster on the 24th May 1794. He coined the words 'scientist', 'catastrophism' and recommended the terms 'anode' and 'cathode' to Michael Faraday.
Sir Richard Owen, KCB (1804-1892) was born on the corner of Brock and Thurnham street, Lancaster on 20th July 1804. He coined the word 'dinosaur', and was also the founder of the Natural History Museum in South Kensington, London.
Sir Edward Frankland, KCB, FRS (1825-1899) was born at Catterall, 10 miles south of Lancaster on 18th January 1825, and moved to Lancaster in 1832. He was the father of the concept of Valency, inventing the idea of the chemical bond, with his research into chemical compounds leading to the establishment of the science of organo-metallic chemistry.
Sir Thomas Storey, JP, DL (1825-1898) was born in Bardsea near Ulverston, 30 miles northwest of Lancaster on 25th October 1825. He founded the Storey Institute (for arts, technology and science) in Lancaster in 1887 from the procedes of the manufacture of table baise and oilcloth. He owned the lands forming the Bailrigg Estate (now Lancaster University) established by his son Herbert.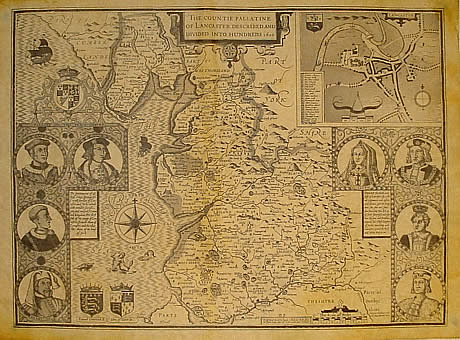 <! img src="/graphics/horizontal_black.gif" height=1 width=450>
- July 06